---
Your current location: Home /FAQ

---
Frequently Asked Questions:

This page will grow as time permits.

Why should your pictures be framed under glass?

There are several reasons why you should mount your pictures in a frame with glass. First is to prevent the picture for being touched. The oils in your skin can damage the image over time. Second is to limit exposure to the air which can carry contaminates which can damage your picture. Third is to buffer the changes in humidity and temperature. This will help to prolong the life of you print. Fourth is to offer some level of ultra violet light protection.

Where should my print be displayed?

Your pictures should be displayed in a location that allows easy viewing access. The location should not be in a location that receives direct sunlight to help prolong the life of the print. You should also make sure your print is not located in an area that is subject to wide swings in humidity or temperature.

Why do you offer three different types of prints?

The three different prints are offered to give the customer a wider choice to better meet their specific requirements. "Standard Prints" offer a lower cost point but still provides very nice quality. "Digital Archival Prints" offer longer life expectancy. "LightJet Archival Prints" offer very high quality along with long life expectancy.

What is the difference in appearance of the three different types of prints?

Standard print have a glossy surface with the look of a print that you would normally expect from your local photo lab.
Digital Archival Prints have excellent detail and colors with a surface finish that is closer to a mat finish due to the archival inks used in the printing process.
LightJet Archival Prints have excellent detail and vibrant colors with a glossy surface finish.

Are your pictures taken with a film camera or a digital camera?

Currently all of my work is done using film based cameras. Once the image has been captured on film and processed the image is scanned and converted to a digital format where normal adjustments can be made using a computer rather than in a traditional darkroom.

Do you manipulate your pictures to build an image that is not real?

The simple answer to this is "No". The more complicated answer is yes there is some manipulation but not to alter the components of the picture. There is always some manipulation in creating a picture even if you get your pictures developed at a one hour lab. The normal manipulations that I perform are color correction, adjustments for correct brightness and contrast levels and image sharpening. These color and brightness adjustments are done to return the picture back to a state where it looks closer to the image captured on film. The scanning process is never 100% accurate. I also have to sharpen the image due to a loss sharpness created in the scanning process.

Why do you offer prints created digitally rather than normal analog darkroom process?

The reason I have chosen to use a digital printing process is for two basic reasons. #1 is the ability to perform adjustments without the use of a chemical based darkroom. #2 is to provide consistent print results. Once an image has been converted to a digital file and adjusted the resulting file can then be used to create each image accurately every time. It also eliminates the possibility of damage to the original film image.
My original non-commercial site is still available
Mike Fedler's "Focus On Photography"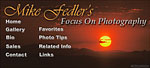 ---
© Michael Fedler 1997 - 2007
All of the images in this Web site are copyrighted original works of art by Michael Fedler, and are protected by United States and international copyright law. No rights to down load, save, copy, print, redistribute or use in any other manner are allowed or implied without the prior written consent from Michael Fedler. For information regarding commercial or personal use, please contact: Michael Fedler by e-mail at michael@fedlerphoto.com
For comments about this site or errors found please contact admin@fedlerphoto.com